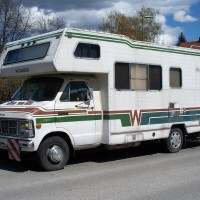 The Recreational Vehicle life gives you the comfort owning your own home and the luxury of moving that home anywhere you want to go. Living in an RV costs much less than a house or condo, not to mention the huge savings on travel expenses. The RV life is convenient and comfortable, and gives you more control of where you live, along with the ability to simply pack up and move whenever you choose.
If you are a frequent traveler, you will find many benefits to owning an RV. Owning a motorhome lets you experience the pleasures of wilderness camping without the inconveniences. Everything you need is at your fingertips. And you never have to worry about packing and unpacking your gear. Simply park your RV and you're home. You'll save money on vacations and weekend trips, since you'll never need to book a hotel or other accommodations. Plus, you never have to impose on family and friends to fix up that spare bedroom when you pay them visits.
There are two kinds of Rvs to choose from: motorized Rvs, or motorhomes, and towable RVs. Motorhomes have the vehicle chassis and the living quarters combined in a single unit. There are three classes of motorized homes. The Class A , which is built on truck chassis, specially designed for the motorhome. Class As are popular for people who live in their RV full-time. The Class B mobile home is a more compact version, and the Class C motorhome is constructed on an automotive-style van frame.
Towable RVs are separate from the vehicle, and are meant to be towed. The four types of towable RVs include truck campers, folding camping trailers, travel trailers, and fifth wheels.
The other factor to consider when purchasing an RV is the engine: RVs come with either a gas or diesel engine. The big difference between the two is the price. Gas engines are typically less expensive than diesel, and have more carrying capacity. In addition, oil changes and maintenance costs cost less. Diesel RVs can give you a quieter ride, as the engine is frequently placed in the back of the vehicle. Diesel RVs generally hold more cargo and heavier items Diesel engines can also have excellent transmissions and pac brakes, making mountain driving much easier. It costs more to change the oil, but diesel engines can last quite a long time.
How much an RV costs depends on what type you choose and which features are important. You can buy a motorhome starting at around $30,000 on up. The price is more if you buy new. You can shop around for a great deal if you buy a secondhand RV.