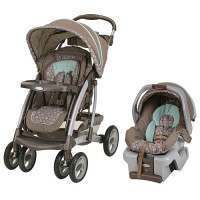 Graco is renowned throughout the world for their innovative and handsome designs, excellent construction, and value. Graco's best innovation was creating the "travel system", which combined the stroller, car seat, and car base all in one, which allowed parents to move their infant from the stroller to the car without taking her out of her seat. The Graco travel system also lets parents buy all required travel gear in one fell swoop, providing peace of mind that all the components would sync up and match their styles.
The Graco infant travel system comes in several car seat styles. The Snug Ride seat is for infants weighing from 5 to 22 pounds and up to 29 inches in length. Or you can pay a little more for the Snug Ride 32, which will fit babies up to 32 pounds and 32 inches, or the Infant Safe seat, which can carry babies weighing from 5 to 30 pounds. All Graco travel systems are built with the highest standards in safety, and are made with EPS shock-absorbing materials for the greatest impact protection.
Light Weight Graco Travel Systems
Lite Rider $159.99: A good travel system for the price; it gives you features you tend to find on higher priced strollers, such as its one hand fold, trays for child and parent, an easy to reach drop-down basket, and a reclining seat. Its only downside: the Lite Rider only comes in one color pattern.
Alano $179.99: This Graco travel system gives you the best design and style. Its one-hand folding mechanism breaks down the stroller into an upright position–no need to bend over! Its sturdy construction, plenty of convenient features, and stylish design make the Alano our top choice. Again, it has limited color options, but the neutral color scheme allows it to blend in with your other baby color schemes.
MetroLite $239.99: Weighing in at a mere 25.6 pounds, you'll be amazed at the number of features packed into this lightweight Graco travel system, such as the parent storage tray complete with cup holders, a multi-position reclining seat, a tray for the child, locking swivel front wheels, and top-notch suspension. With all these great features, you'll think that you are pushing one of the more expensive, full size strollers.
Full Size Graco Travel Systems
Quattro Tour and Quattro Tour Deluxe $249.99/$269.99: The flagship of the line of Graco travel systems, the Quattro Tour is fully equipped from top to bottom with tons of features and its signature well-made craftsmanship. Its aluminum frame, lockable, swiveling front wheels and easy single touch brakes make it a sturdy, maneuverable and secure stroller. The one hand gravity-fold breaks down the stroller in a single touch. Its got tons of storage room for a long outing, with both the handy parent tray and a roomy, storage basket under the seat. The Graco Quattro Tour system is available in two models: the the Quattro Tour has the Snug Ride infant seat, whileDeluxe is equipped with the Snug Ride 32. Both Quattro Tour models are undeniably the best systems on the market.
Glider $179.99: Lighter and less expensive than the Quattro Tour systems, the Glider is one of the better travel system in its price range. While it may not have all the features of its bigger siblings, it still comes packed with great features such as a canopy with parent and baby trays, a peek-a-boo window, and a large storage basket.
Vie4 $209.99: Stylish and filled with options like the upright folding mechanism, the Vie4 is a terrific value. The Vie4 would be our second choice if you choose not to opt for the Quattro Tours. Its only downfall is that it only comes in two colors.
Spree $169.97: Sold exclusively as a travel system, the Spree comes equipped with only the Snug Ride Car seat. It has several nice features for its price, even if it doesn't come with all of the bells and whistles of other travel systems. However, it is certainly a great value for the price. If your budget is limited, the Spree is a perfect option.
Stylus $189.99: This is a hard to find travel system which has a lot of the same style features as the Mosaic stroller. Its sleek design combined with an array of convenient features makes the Stylus a perfect alternative to the bigger strollers. With the Snug Ride car seat, the Stylus is a welcome addition to the Graco family.
They say imitation is the sincerest form of flattery; ever since Graco introduced their travel systems other stroller companies have been struggling to compete. Graco's brilliant innovation is now a market standard; however, the original is still the best you can get.