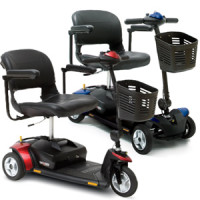 There's a new kid in town in the mobility scooter world. The Pride Go-Go Elite Traveller Plus offers affordable travel for millions of folks who have difficulty getting around. This scooter can help return your freedom. Its increased size, and 300-pound weight capacity (325 lbs in the HD version), combined with a wraparound delta tiller allows the larger individual and people with limited dexterity to take advantage of the benefits of travel mobility. Plus, its Feather-Touch one-hand disassembly makes the Go-Go Elite Traveller Plus the most convenient travel scooter to take with you everywhere you go.
The Go-Go Elite scooter is available in three and four-wheel models and has the extra benefit of easy assembly. It comes with the following unique features:
Weight capacity starting at 275 pounds, and as much as 325 in the HD model

Front frame-mounted seat post makes it extra stable

Auto-latching lockup mechanism allows you to separate the frame with one hand

Auto-connecting front to rear cable

Three sets of easy-changing colored panels in three vivid colors—red, blue, and silver

Modular design for ease of service

The brand new frame design easily comes apart into five light-weight pieces for easy transport and storage
This is one of the more affordable and portable scooters that you can buy, and yet the Pride Go-Go Elite Traveller provides ease of maneuverability and stability, enabling you to easily negotiate the scooter through narrow hallways and tight spaces. In addition, the scooter's classic design, user-friendly controls, and amazing performance outdoors make this a perfect travel scooter!
In 2002, Pride's Go-Go was the first scooter to have a true four-wheeled travel scooter that easily folded up. They have since gone back to the basics and have re-designed it, setting standards that all future travel scooters will have to follow if they want to compete. It folds up easily without having to disconnect the wiring loom. It is fun to drive, has lots of legroom and a comfortable, padded seat, eight inch rear wheels.
Choose between the 17 amp hour battery or 12amp hour without increasing its size. The battery pack detaches so that you can recharge the battery while you are away from the scooter.
The New Go-Go Elite Traveller Scooter comes in three Standard colors: red, blue, and silver. All three panel colors are supplied when you purchase the scooter so that you can change your Scooter's look daily simply by replacing the panels.
Pride Mobility Scooters is one of the worlds biggest manufacturers of mobility scooter; it's a visionary company that has raised the bar for industry quality for years.
Where Should I Buy This Scooter From?
More Than Mobility, the UK's biggest supplier of mobility equipment, offers the best deal on the Go-Go Elite scooter. They also provide excellent after-sales service, including free set-up and training when the scooter is delivered.
There are numerous things to consider when you buy a mobility scooter, so it's important that you go to a reputable dealer that offers a wide array of products so you can be assured that their advice comes without bias towards a particular brand. More Than Mobility stocks over 3000 different mobility products, so the advice they give is tailored to your individual needs.
Trust one of the top suppliers to get you the best deal on one of the top mobility scooters.