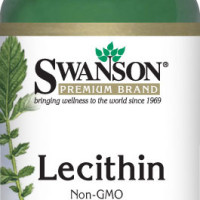 Lecithin, by Swanson Health Products is, as its name implies, pure lecithin made from soy and sold in soft gel capsules. It claims to be an "outstanding fat emulsifier for healthy lipid levels and cardiovascular maintenance." Swanson Health Products sells over a half a dozen supplements that all claim to control healthy lipid levels and promote cardiovascular health.
Lecithin is nothing more than a fatty substance that occurs naturally in animal and some plant tissues. It may contain some health benefits; however, we are skeptical that it can actually lower LDL levels. So, let's take a look at the evidence that backs its claims and whether this product offers any attractive solutions to cholesterol problems.
Each tablet of Lecithin contains 1,200 mg of pure, non-GMO soy lecithin. The Swanson website claims that Lecithin is not only excellent for maintaining cholesterol levels, but is beneficial for the brain as well. The supplement is not solely marketed to lower LDL levels, but lecithin has become common ingredient in a lot of second-rate cholesterol-lowering supplements.
As a general rule of thumb, when shopping for supplements, we try to look for trustworthy manufacturers who use all-natural products rather than synthetic products. This same rule applies for cholesterol-lowering supplements. However, not all natural supplements are what they are cracked up to be, especially when it comes to cholesterol. The better products are supported by scientific, research-oriented evidence, and have solid testimonies and positive customer reviews. A holistic approach is needed to determine whether any product should gain our trust and our money.