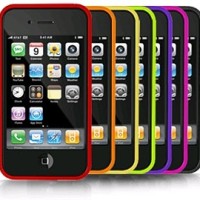 If you're addicted to your iPhone 4 like we are, you don't want to just keep your phone safe—you want to protect it in style. Phones are not merely for making calls; they're an intrinsic part of our work, family, and school lives. You need to find an iPhone 4 case that matches your individual lifestyle. There is a case for every lifestyle out there, whether you're a fashion-plate who changes your phone to match each outfit, or you're a rugged outdoorsy type who needs sturdier protection to keep their phone safe, or a career person who wants a classy, professional looking device cover. Here are a few things to consider when shopping for an iPhone case.
The Fashionista
If your phone makes a fashion statement, consider getting the hip DuoShell case. This case adds a sophisticated touch to your phone and comes in a variety of colors; there is even one that glows in the dark! You get the added benefit of combining fashion with functionality. The case provides protection while letting you show off your phone in a flirty, stylish case.
You may also like the super-thin MicroShell, which is less than 1mm thick, is lightweight, yet it still protects your phone's back and sides from dings and scratches.
The Phone Warrior
You're tough and rugged and hard on your things, including your phone, which takes a beating while you're out there roughing it. Whether you're hiking, biking, or working out in the gym, a flimsy case just won't be enough to keep your iPhone 4 safe; you need a cover that can handle the action and will protect your phone from sweat, vibrations, and the periodic head-on collision. Sports fanatics will appreciate the SportShell Convertible case.
The lightweight SportShell is just 2mm thick. But its best feature is the rotating back piece which attaches to an armband (it comes included), purse, belt, or strap, which keeps it secured to you while still giving you free range of motion.
If you enjoy a good work out but need to keep your iPhone 4 on your person, try the Eco-Runner case. Its armband is secure and stretchable. It is constructed out of Eco-Prene – a sponge-like limestone that feels like neoprene but doesn't have the high levels of PVC or petroleum that neoprene has, making an excellent choice for active iPhone users who want to be more environmentally friendly.
The Career Person
The cell phone is practically a physical appendage of today's business man or woman: they talk to clients, text their co-workers, check their emails: they need a case for their phone that is both sturdy and professional looking (sorry, the Hello Kitty cover is just not going to cut it at the executive meeting!). There numerous phone cases to choose from, but here are a few of our favorites.
The first is the CEO Premier iPhone 4 case, made by Marware. It's an elegant leather case which combines the perfect blend of function and style for the busy professional. It comes with a slim leather built-in belt clip, but you can also simply carry it in your pocket, purse, or briefcase.
Marware's CEO Flip-Vue case is another perfect fit for the stylist professional. Its slim, leather flip-top holster keeps your iPhone 4 secure, while its cover also doubles as a storage pocket which can hold your credit or debit cards inside the case. When you're on the go during your hectic work day, the handsome leather holster keeps your iPhone 4 secure.
When you're choosing an iPhone 4 cover, pick the case that fits your unique personality and needs. From funky to practical, from hip to elegant, there's a case for every lifestyle.