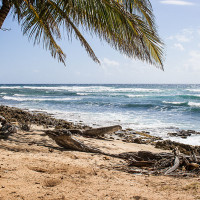 Trip Advisor is an online service that offers travelers planning a vacation the chance to search information about a variety of travel destinations and read reviews from other travelers. And for people who have visited these destinations to write reviews about their experiences at the various restaurants, hotels, local shops, airlines, and any other experiences they had related to their trip. These reviews offer an inside look at the local amenities and businesses that you may plan to visit. Trip Advisor also lets customers book their trips through their site: they can reserve motel rooms and even make airline reservations. Trip Advisor offers you multiple choices and prices, saving you money and time with convenient tools to research reviews of different travelers' trips on various Caribbean destinations and book your vacation.
Trip Advisor's Caribbean reviews strive to promote excellence in local services and accommodations. When someone has a wonderful experience at a local restaurant or hotel, they'll want to share it and help promote that region. Then, the next set of travelers who read these reviews use them to decide if they should also give that business a try.
Trip Advisor has an international reputation: more than 150 million viewers use the site on a regular basis. So far, more than 250 companies promote their content on Trip Advisor, and over 30,000 domains display the Trip Advisor website hoping to take advantage of its popularity. Hotels, restaurants and business owners are all beginning to realize the influence that Trip Advisor has on their business. They notice that 25 million-plus visitors hit Trip Advisor partnered sites.
How to Make Trip Advisor Work for You
The Caribbean islands are one of the most popular vacation destinations for travelers. Trip Advisor contains a variety of tools to help you plan your Caribbean vacation, including ideas for different activities, and recommendations on the local areas that feature those activities. Each destination contains a description and a list of local businesses and amenities, along with reviews generated by previous Caribbean travelers, and finally, information on how to book your travel plans: all in one convenient site!
In addition, Trip Advisor also lets you not only read reviews about their destinations, but you can also view detailed photos of these locations. Pictures can show us what words are inadequate to describe. It's a more visceral way to find out what to expect.
If you're determined to go to the Caribbean, but are still having a hard time trying to decide where to go or what you should do, Trip Advisor has a Q&A section where travelers can ask questions about specific restaurants or activities and get advice from people who have been there, giving the travel review experience a more interactive and personal approach.
So when you come back from your own trip to the Caribbeans, don't forget to return the favor and post your own review of your experiences. Trip Advisor makes this easy as well: simply log on and click the "Review" tab. Once there you can write your travel review for others to read and let them choose their next vacation spot on what you have shared.