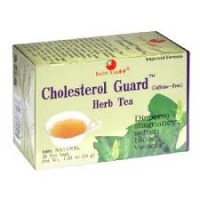 Health King Cholesterol Guard Tea is a drink marketed towards consumers looking for a general nutritional boost for health conditions like high LDL cholesterol or high blood pressure. Health King claims to be caffeine-free and contains a variety of natural nutrients, vitamins, and amino acids.
People who take prescription drugs to manage their cholesterol may want more natural alternatives, since many pharmaceuticals can cause possible side effects. However, not all-natural products are equal. Let's see if Health King Cholesterol Guard Tea lives up to its claims to lower your cholesterol.
Certain online sources show that Health King's formula may contain ingredients such as chrysanthemum, jujube, rhubarb, and jasmine. These herbal extracts and ingredients are often found in similar teas and drinks, especially jasmine, known for its powerful aroma.
Health King claims that its product offers the following nutrients: adenine, choline, vitamins A and B, amino acids, emodin, saponins, glycoside, rhein and more. Essentially, the tea is marketed as a general health-supplement formula for folks on a budget – you can buy one box containing twenty bags of tea for between $5 and $6.
Lots of people drink tea on a regular basis anyway, so adding this tea to their health regimen won't require a significant lifestyle change. You can drink it several times a day at your convenience, and not worry about potential side effects. It would not be a good idea, however, to depend solely on this one tea to lower your LDL cholesterol levels. Continue to follow your doctor's advice and include other lifestyle changes such as diet and exercise.