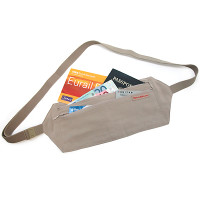 The Rick Steves Silk Money Belt is currently Amazon's top selling travel pouch, with nearly a hundred rave reviews. So what makes this money holder so hot?
The Rick Steves Silk Money Belt is popular for several reasons. First, Rick Steves' reputation as a credible European traveler has given Americans an up-close view of Europe and a way to relate that is way more intimate than what tourists usually experience. He has spent almost forty years traveling across Europe. He's written over fifty guidebooks, as well as hosting his own television and radio shows.
Steves designed his personal travel bag collection as well as other travel accessories that he felt the world traveler would need to venture out into the world. With his extensive background he ought to know which items are necessary to travel with and what is comfortable to carry when you're out on the road. His products are specifically designed for travelers.
The Rick Steves Money Belt will store your essential things like your passport, money, tickets, credit cards, etc. You wear it above your hips, under your clothes. It is so thin, lightweight, and comfortable that some people have fallen asleep while wearing it: they forgot that they had it on!
It comes in two colors: "natural" beige or tan and black. Its silk fabric feels soft and comfortable, and prevents the chafing that nylon can sometimes cause. Though it might occasionally get damp from sweat, it has a water resistant liner which keeps your belongings dry.
The money belt contains one large pocket which holds larger items such as your passport as well as two smaller pockets which are a perfect fit for credit cards and cash. The two zippers make it easy to access your items.
One negative feature customers mentioned is the extremely long belt. If you're an average or petite size person you may want to cut off the excess portion or tuck it inside your pants to enable it to fit better.
Rick Steves sells the travel pouch on his website for $19.99 on his website.
If you're seeking a lightweight travel pouch that comes recommended by an experienced and world-renowned travel expert, then the Rick Steves Silk Money Belt is worth looking at.